Great Walk Transfer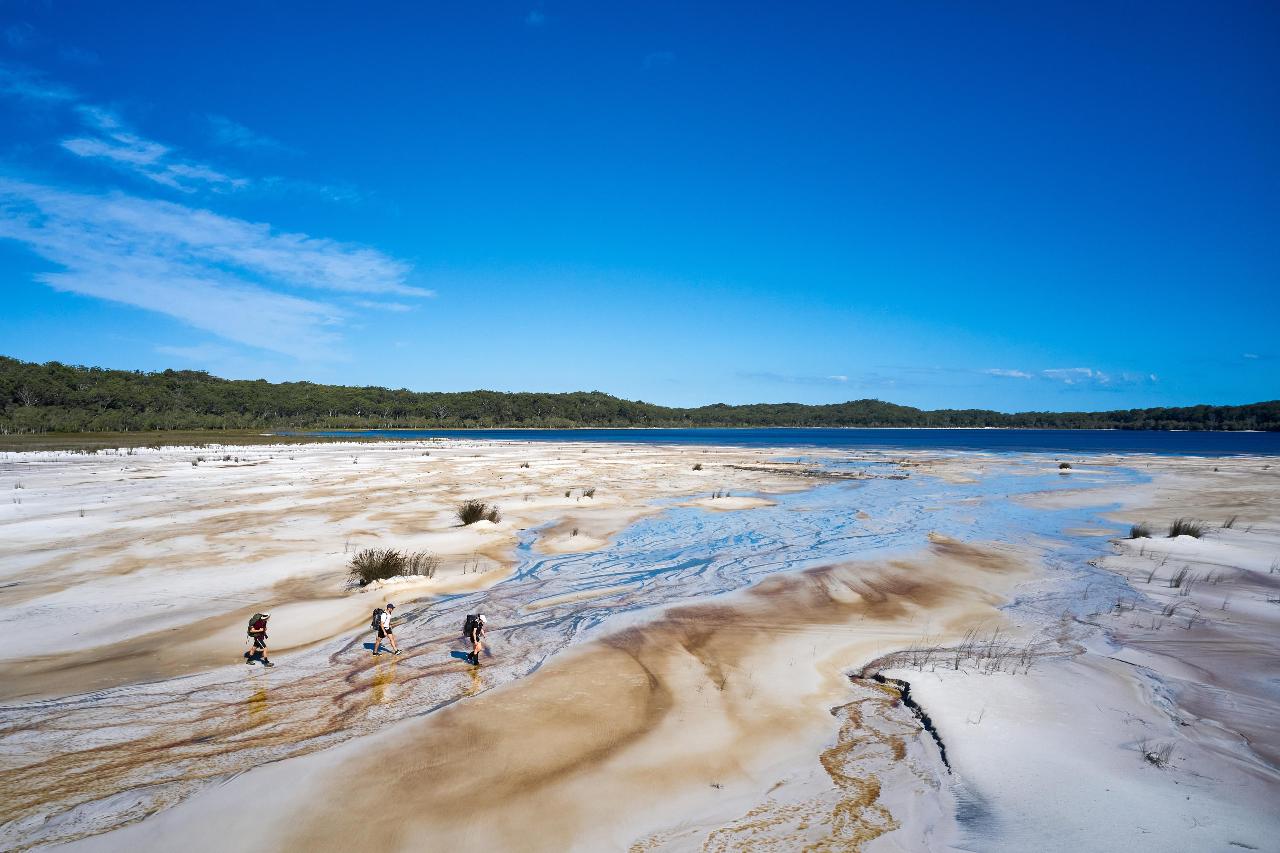 Location: Urangan, Queensland
Product code: GWALK
Price varies according to how many people are in the group!

WE OFFER WILDERNESS TRANSFERS TO HAPPY VALLEY OR DILLI VILLAGE EX HERVEY BAY INCLUDING THE BARGE FEE FROM RIVER HEADS TO WANGOOLBA CREEK - FROM $140 PP (GROUP OF 6)
WE ALSO OFFER EQUIPMENT DROPS AT THE ACCESSIBLE HIKERS CAMPS - P.O.A
CAMP PERMITS FOR THE HIKERS CAMPS ARE $7.00 & CAN BE BOOKED THROUGH PARKSQ
Experience a world-class walking track meandering through the magical paradise of K'gari.
Traversing 85 kilometres of stunning landscape in this World Heritage Area, the K'gari Great Walk showcases natural and cultural features of the world's largest sand island.
Follow traditional Butchulla pathways beneath towering rainforest, past crystal clear lakes and over vast sand dunes. Discover the island's history as you walk along paths where logging roads and tramlines once served a bygone forestry industry.
The K'gari Great Walk provides challenging and remote routes for experienced walkers as well as shorter, easier walks for visitors looking for a more relaxed experience. The main track takes between six and eight days to complete. Additional walking tracks link the Great Walk to the Island's main barge landings, accommodation and supply centres. Alternatively, you can choose to walk a short section of the track as a day walk with one of our Eco Explorer / Adventurer Tours or if you are feeling energetic, you can cover the full distance.

Over 90 kilometres of walking tracks were opened on K'gari in 2004. The tracks run from Happy Valley on the middle of the eastern side of the island and travel south toward Dilli Village. There are no provisions during the walk so everything you require must be carried on your person. We recommend that you always travel in groups of 2 or more, wear sun smart clothing, carry a plentiful supply of water, wear sturdy walking boots, take a first aid kit and always plan to reach your destination well before sunset. You can camp overnight at several locations during your walk.
There are NO toilet facilities and human waste must be buried at least 50cm deep. Fresh water is available at each camp but may have to be treated first. These sites must be booked in advance and you must have camping permits for each site you stay at on the island. The sites are also shown on the topographic map link provided by National Parks